Listen to the Awards Ceremony
BILL BIDWILL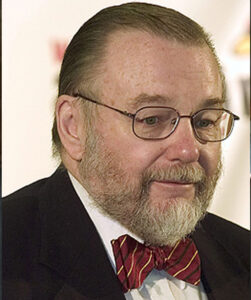 William V. "Bill" Bidwill, Sr. is the current owner of the Arizona Cardinals, who, along with the Chicago Bears , are one of the two remaining charter franchises of the NFL (1920). The Cardinals have remained in the Bidwill family since Bill's father, Charles, a prominent Chicago sports figure and member of the Pro Football Hall of Fame, purchased the team in 1932. He was named a vice president for the Cardinals during his undergraduate days at Georgetown University. He returned to Chicago from the Navy in 1956 to begin assisting family interests that included football. When the Cardinals moved to St. Louis in 1960, Bidwill returned to the organization on a full-time basis and became the sole owner in 1972.
The 78-year-old Bidwill remains involved in all areas of the Cardinals' day-to-day operation. In addition to his duties with the Cardinals, Bill Bidwill is an active supporter of various civic and charitable organizations and endeavors. He directed the formation of Cardinals charities, the team's organization dedicated to supporting worthy Arizona causes, shortly after the Cardinals arrived in the state. Bidwill is the co-chair of the Board of Trustees for the Bert Bell/Pete Rozelle Player Benefit Plan. In August, he was named to the Board of Trustees for the Pro Football Hall of Fame.
---
TOM MONAGHAN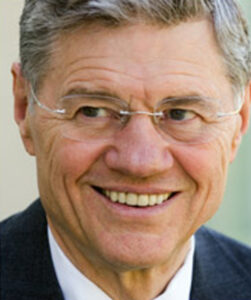 Although best known as the founder of Domino's Pizza and former owner of the Detroit Tigers baseball franchise, Thomas S. Monaghan is currently devoting his attention full time to non-profit endeavors, specifically focused on underwriting Catholic higher education. He is a Catholic with a particular interest in pro-life causes and the appointment of pro-life Justices to the U.S. Supreme Court.
His support for non-profit endeavors primarily flows through the Ave Maria Foundation, which he founded in 1983 to focus on Catholic education, Catholic media, community projects and other Catholic Charities and for which he serves as chairman of the board.
In 1998, Monaghan provided the impetus for a major initiative in Catholic higher education with the founding of Ave Maria Institute in Ypsilanti, Michigan (which later became Ave Maria College), a Catholic liberal arts institution designed to prepare students for leadership in academics, professional occupations, and service to the greater community. He serves as chairman of the school's board of trustees.
Ave Maria College, established in 1998, was the predecessor to Ave Maria University, which was founded in 2003 and which is located in Ave Maria, Florida. Monaghan serves as the University's chancellor.
In addition to supporting the university and college, the Ave Maria Foundation provided the initial funding for Ave Maria School of Law, a Catholic law school located in Ann Arbor, Michigan (for which Monaghan serves as chairman of the board of governors). The Foundation also helped establish the Thomas More Law Center, a public-interest law firm that provides legal counsel to organizations and individuals whose religious and other freedoms are threatened. In 1987, Monaghan founded Legatus (Latin for "ambassador"), an international organization of Catholic business leaders committed to studying, living and spreading their faith through their professional and personal lives.
Tom Monaghan was born in Ann Arbor in 1937. His father died four years later, ushering in a childhood spent largely in an orphanage and a succession of foster homes. After graduating from Ann Arbor's St. Thomas High School in 1955, and enrolling at Ferris State University in Big Rapids, Michigan, Monaghan enlisted in the U.S. Marine Corps in 1956. Honorably discharged three years later, he returned to Ann Arbor, where he enrolled at the University of Michigan.
While still a student, Monaghan founded Domino's Pizza. He and his brother, James, borrowed $900 to buy a small pizza store called DomiNick's in Ypsilanti. He later bought his brother's share of the business, and opened additional stores in Ann Arbor and Mt. Pleasant, Michigan. By 1998, Domino's had 6,250 stores, and ranked as the world's largest pizza delivery chain, pioneering a number of industry innovations inspired by Monaghan.
The story behind Domino's Pizza (including the many obstacles and setbacks Monaghan overcame and the path he took to success) was compiled for the first time in his 1986 autobiography, Pizza Tiger, published by Random House. He sold Domino's Pizza in 1998 to Bain Capital, Inc., leaving behind its day-to-day operations, which he had overseen for 38 years.
Monaghan has received honorary degrees from twelve universities around the country, and in March of 2000, he was named an Honorary Fellow of Magdalene College within Britain's University of Cambridge.
Monaghan and his wife have four daughters and eight grandchildren.
---
BRIAN PICCOLO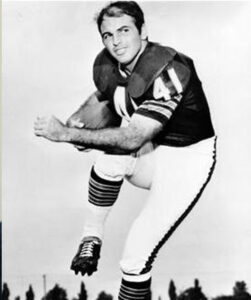 Piccolo played college football at Wake Forest; his only other scholarship offer came from Wichita State. He led the nation in rushing and scoring during his senior season in 1964 and was named the Atlantic Coast Conference Player of the Year, yet went unselected in the 1965 NFL draft.
Because he was not selected in the 1965 NFL Draft, Piccolo tried out for the Chicago Bears as a free agent. He made the team for the 1965 season, but only earned a spot on the taxi squad, better known today as the practice squad, meaning he could practice but not suit up for games. In 1966 Piccolo was on the main roster but played primarily on special teams. By 1967, his playing time increased as a back-up to starting tailback Gayle Sayers and in 1969, he was moved up to starting fullback, with Sayers as the tailback. He scored five touchdowns over his career.
Piccolo had finally earned a place in the starting lineup as an undersized fullback. During the ninth game in Atlanta on November 16th, he voluntarily removed himself from the game, something he had never done, which raised great concern among his teammates and coaches. He had extreme difficulty breathing on the field, so when the team returned to Chicago he was promptly sent for a medical examination, and was diagnosed with embryonal cell carcinoma.
Soon after, Piccolo had surgery at Sloan-Kettering in New York City to remove the tumor. He had another surgery in April 1970 to remove his left lung and pectoral muscle. After being bothered by chest pain, Piccolo was re-admitted to the hospital in early June, and doctors determined the cancer had spread to other organs, most notably his liver. Brian Piccolo died on June 16, 1970, at the age of 26.
In 1980, students at Wake Forest, Piccolo's alma mater, began the Brian Piccolo Cancer Fund Drive in his memory. They raised money for the Comprehensive Cancer Center at the Bowman Gray Medical Center of Wake Forest University. In addition, the Brian Piccolo Student Volunteer Program was established to provide undergraduates with an opportunity to work at the Cancer Center as volunteers.
In memory of Piccolo's accomplishments, the St. Thomas Aquinas High School football stadium in Fort Lauderdale is named after him. Also, at the end of every football game, the school's marching band plays "The Hands of Time," the theme from Brian's Song, a movie based on the friendship between Sayers and Piccolo.
Each season since 1972, the Atlantic Coast Conference has awarded the Brian Piccolo Award to the conference's "Most Courageous Player". In 2007, the recipient was Matt Robinson of Wake Forest, the fourth player from Piccolo's alma mater to be given the award. Since 1970, the Chicago Bears have also handed out an award by the same name to a rookie and (since 1992) a veteran who "best exemplifies the courage, loyalty, teamwork, dedication and sense of humor" of Piccolo. The Bears' veteran players choose the winners. The 2007 recipients were Brian Urlacher and Greg Olsen.
Watch the FULL Event Video